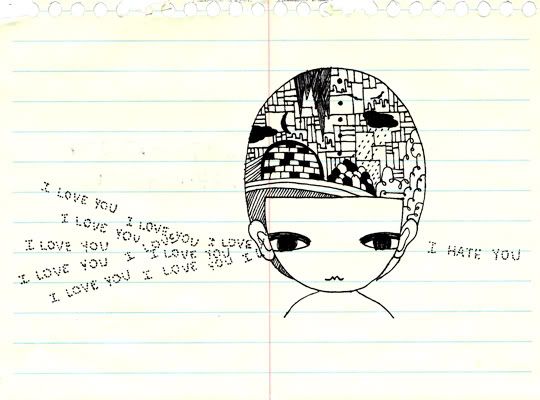 Artist : lertsis




Country : Thailand


Blog : http://lertsis.blogspot.com/
Flickr : http://www.flickr.com/people/lertsis/
Shops : Etsy Dawanda Mintd
What is art for you?


to me, i consider art as a way people express their true self, to express who their are really am and what they feel at the moment. it's kinda like a magic you can see people's personalities through their art. and yes,my art do reflect myself somehow.
Do you also collect other artist's work? Who is your favourite?
sure! i love collecting nice stuff since i was young. i started by collecting some cute illustrated letter set since i was 7 and i keep doing it till today. i love collecting paper stuff like postcards, notebooks, and even book itself. whenever i travel overseas, i would always drop by some of these stylish stores where they sell so many cool stuff. japan is the best, i can never get enough of japan! okay, and for my fav artists, they are so many! yoshie watanabe, marini monteany, these are my top fav ones.
Other than creating art, what do you usually do for fun/relax?


like others people, i love watching movies, i listen to the music and the time ( can't live without it) i love hanging out with friends and i love cocktails!
How is life in Thailand? Can you brief us a little about your daily schedule?


if talking about this moment, i sleep for just a few hours. im a last year student in college and i have to do this major project and the last project and the deadline is coming up so wake up and 7 and turn on computer, have lunch at 12 and continue with my work and sleep when i think i can't force my brain and my eyes to work anymore. but sometime, i would find an excuse to go out for a while. it's kinda torturing me staying at home and stare at the screen all day long!
How is the art/craft market in Thailand?


if you talk about craft, thai craft is quite a big market. it's some kind like traditional craft stuff. thai people really do have very own style. but if for contemp art, comparing to japan, art market in thailand is still very tiny. but it's been growing bigger than earlier and pretty sure gonna be bigger in the future.
Are you a full time artist?
no, im still a student, last year though
What or who inspire you?
it's quite random, can be anything. like great piece of art can inspire me. some now conversation from the movie can inspire me. some people with their creativity can inspire me. people with great passion can also inspire me.
Is there any grand plan for yourself within the next few years?


i hope i will be doing this and develop more of it. trying to find a way to live my life by doing this since i found it the thing i enjoy doing the most
Any shout out to the blog readers?
thank you for reading this! :D and for anyone who wants to starting some art but sill afraid it wont' work well. just keep practicing. not saying im a great artist but i was so so much lousy in the past. but if you keep doing it everyday until it's click and you found your style. and that day you will be very proud of what your art has turned into.
~~~~~~~~~~~~~~~~~~~~~~~~~~~~~~~~~~~~~~~~~~
Kiirey says thank you to lertsis for spending her time for the interview. Kiirey wishes her all the very best in her artistic journey.

:)